Lunar New Year is just around the corner. If you are free from the Lunar New Year frenzy, there are several otome games that are having their events concurrently. Participate the in-game events as we usher a new Lunar New Year!
Ikemen Series by Cybird
Midnight Cinderella
[EVENT] Collect garden chibis of your favourite characters dressed as pirates by participating in events under the Sail the Seven Seas Campaign!

[GACHA] Midnight Cinderella has released a new Mysterious Moon Fashion Grab Bag. Get costumes and chibis inspired by the moon!
Ikemen Sengoku 
[LOGIN] Ikemen Sengoku's login Stamp Card for February is now out.  Login everyday to complete February's Sakura-themed attire.
[EVENT] Leyasu's B-Day Fest story event is ending soon! Finish the event by 2/3 5 PM PST to get limited edition avatars and photos of Leyasu.
[GACHA] Ikemen Sengoku's Fashion Gacha, Like Owner, Like pet will be released on 2/3 5 PM PST till 2/24 5 PM PST. Use Gacha Tokens to get voiced messages and attires and read through Premium stories of Nobunaga, Masamune and Yukimura!
[UPCOMING EVENT] Collection event, Sweet Yet Spicy Night will excite you as it opens on 2/6 5 PM PST. The upcoming event will be ongoing from 2/6 5PM PST to 2/15 5 PM PST. Collect Love Manuals to get attires and read through special stories of your favourite ikemen!
Ikemen Revolution 
[EVENT] The cat is finally out of the bag with Loki Genetta, the Cheshire Cat finally making his way to Cradle! Read through Loki & Harr's free story and mini-stories. Every week starting from 30th Jan, learn more about Loki from the residents of Cradle by reading their mini-stories. Read their mini-stories before 3/21 5.59 PM PST before its gone.
[GACHA] Loki's impending arrival sees Ikemen Revolution featuring Loki's Lovers Jubilee Cradle Gacha. Obtain Loki's birthday card by playing the Gacha!
[BIRTHDAY] With Loki's birthday on the 22nd Feb, purchase story sets to read more about Loki and his perspective! Loki's Birthday Story I is available until 28th Feb 6 PM PST.
[EVENT CAMPAIGN] Loki challenges you! New players who have never played Ikemen Revolution, it is your time to shine. Complete the riddles and achieve the goals below to cat-inspired attires for all players of Ikemen Revolution. Download the game on Google Play or App Store and follow Cybird's Twitter or Facebook page to start solving the riddles!
Lucydream
Dangerous Fellows
[EVENT CAMPAIGN] Celebrate Lunar New Year with Dangerous Fellows by logging in daily from 2/2 to 2/6.
Arithmetic
[RELEASE][EVENT] The First Lady Diaries: Affairs of the State is now available on Google Play and App Store. It is currently having its first event, Triangle Love. Collect Love Ballots from reading the main story and doing lessons to vote for your favourite guy!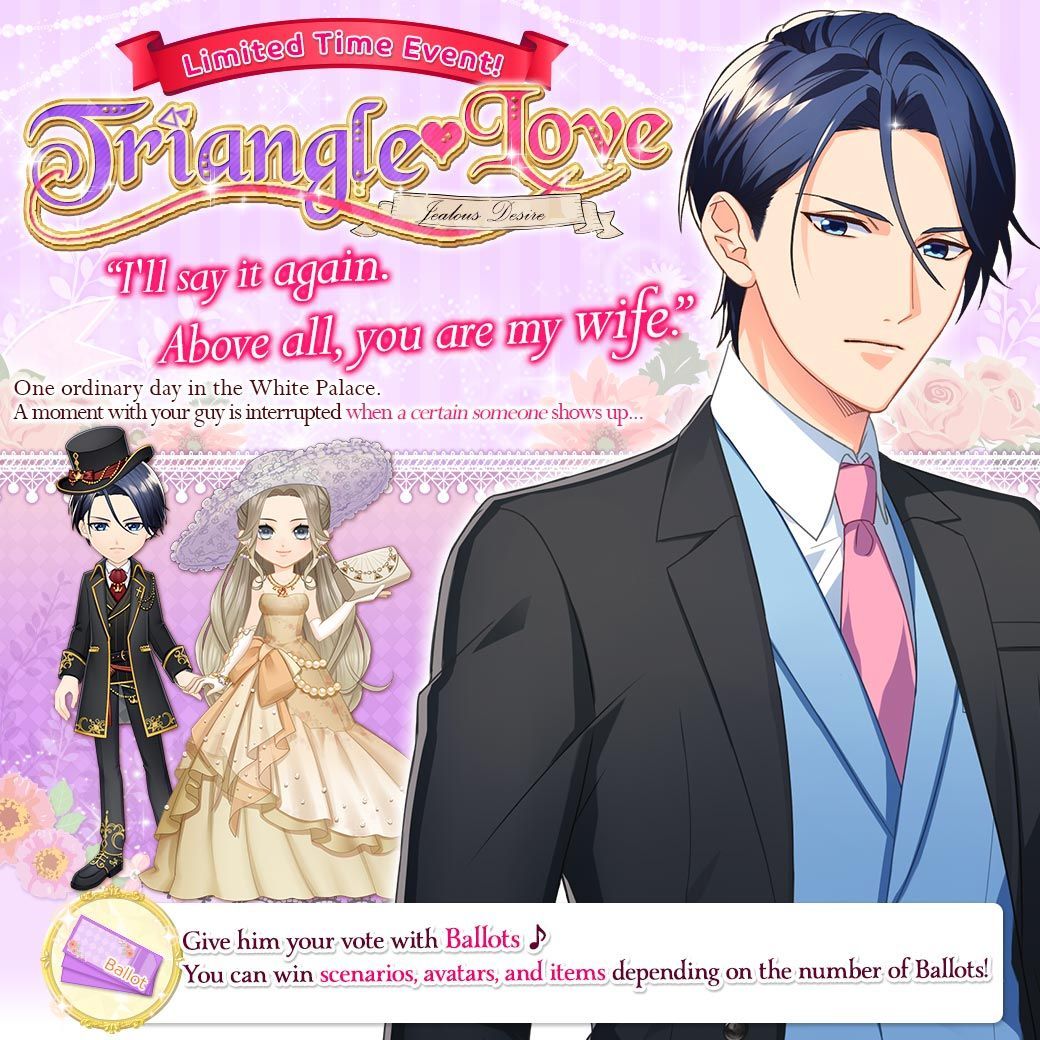 Several Shades of Sadism
[EVENT CAMPAIGN] Several Shades of Sadism celebrates its 2nd Anniversary! From the 2nd February 11.00 AM JST to 8th February 11.59 PM JST, login daily into the game to read a limited edition scenario written by Several Shades of Sadism's English Staff!
Seven Hotties, All My Husbands
[GACHA] "Wearing His Shirt on Valentine's Day" is now out. The Gacha starts from 1st February to 15th February JST.
[BIRTHDAY] Seven Hotties All My Husbands wishes Taiga a Happy Birthday on the 3rd February.
Wicked Wolves
[ROUTE] Gekka Kamitani Main Route is now available to play in Wicked Wolves.
[GACHA] Complicated Guy Gacha is now out! Something seems to be bothering him… find out what is going on by spinning the Gacha!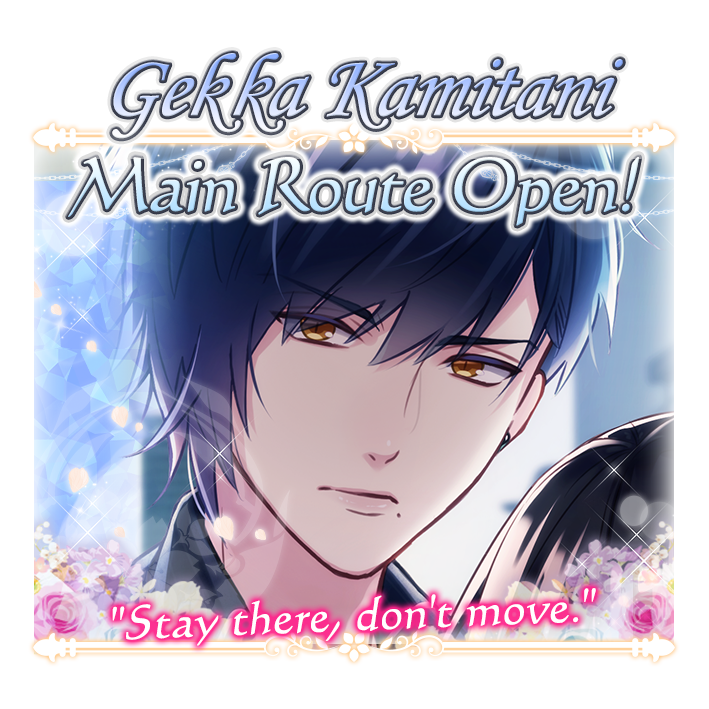 Voltage
Love 365
[ROUTE] Stories: Metro PD Close to You, Irresistible Mistakes S3, Kings of Paradise, My Last First Kiss, Diary of Step-Sister, My Sweet Bodyguard has been updated.
[UPCOMING RELEASE] Masquerade Kiss will be released in on 4th February.
Shall We Date?
[EVENT] Lost Alice+, Wizardess Heart+, Ninja Shadow, Blood in Roses+ are having ongoing events. You can check what events that are currently ongoing here.
Story Jar – Shall We Date?
[UPDATE] Story Jar has now updated to have daily login gifts. Check in everyday to obtain login Diamonds and tickets!
Ciagram
[UPCOMING RELEASE] Ciagram has teased that their newest translated game is to be released during March.
OKKO
Honey Magazine
[ROUTE] Stories: Decoding Desire, Wanted Son-in-law!, Arabian Nights Love Story, Unscripted Romance has been updated.
Rental Boyfriends
[EVENT] Limited Revival event, The Hot Tutor & My Secret Love Lessons is now ongoing.
My Sweet Proposal
[EVENT] Limited Revival event, Sweet Farm is now ongoing.
Helix Waltz
[EVENT] From 1st Feb till 10th Feb, accept the event daily quest to obtain Time Traveler outfit in-game. You can only accept one quest a day. The quest can be accept from Event Centre -> Time Traveler Banner
Abracadabra Games
[RELEASE][EVENT CAMPAIGN] Hanayome: The Sacrificial Bride is finally out! Login daily to obtain in-game items all the way till 10th February. To celebrate the game's release, a time-limited exchange campaign is now ongoing. Exchange Paper Lanterns for in-game items to get a head start to the game.