Remember to practice social distancing and play otome games.
Are you stuck at home with nothing better to do? Love it or hate it, here are some all-in-one otome mobile game apps to keep you preoccupied:
Honey Magazine – Free otome dating game
Do you like being entangled into an office romance? OKKO's Honey Magazine has several office romance stories that can keep you occupied. The all-in-one app comprises of all OKKO's previous standalone game titles such as Office Lover, Decoding Desire and My Sweet Proposal. The app has expanded to include newer stories like KOCHOKI – A Tale Beyond Destiny – and Unscripted Romance.
Honey Magazine releases new chapters every Wednesday. Players can use Scenario Tickets to read each chapter and select special choices with Honey Stones. Each Scenario Ticket is restored every four hours while Honey Stones can be obtained by watching Video Ads or purchased using money.
Pros:
Regular updates
Multiple side stories focusing on one character.
Cons:
Limited options to obtain Honey Stones.
Honey Magazine is available on Google Play and App Store.
Love stories & Otome Games (L.O.G)

Released fairly recently, Ciagram Co. Ltd is the latest company to consolidate all their stories into one app. If you hate looking at otome walkthroughs and just want to read on the go, Love stories & Otome Games or L.O.G is the app for you. The choices you make have no consequences whatsoever as you get to read both bad and happy endings. Currently, the app only has Dateless Love and Princess Closet available in English.
Like all other Ciagram stories, players can read up to five tickets a day and an extra two by collecting Heart Fragments via Video Ads. Obtain three Heart Fragments to turn it into a Heart. To read side stories in-game, Side Story tickets are needed. Side Story tickets can be purchased with money.
Pros:
Able to hoard Hearts to read the stories all at one go.
Translated into multiple languages (Japanese, English, Deutsch, Français )
Walkthroughs are not needed to read this.
Cons:
Very limited titles, most of Ciagram's translated English titles have yet to enter into L.O.G
L.O.G is available on Google Play and App Store.
Love 365: Find Your Story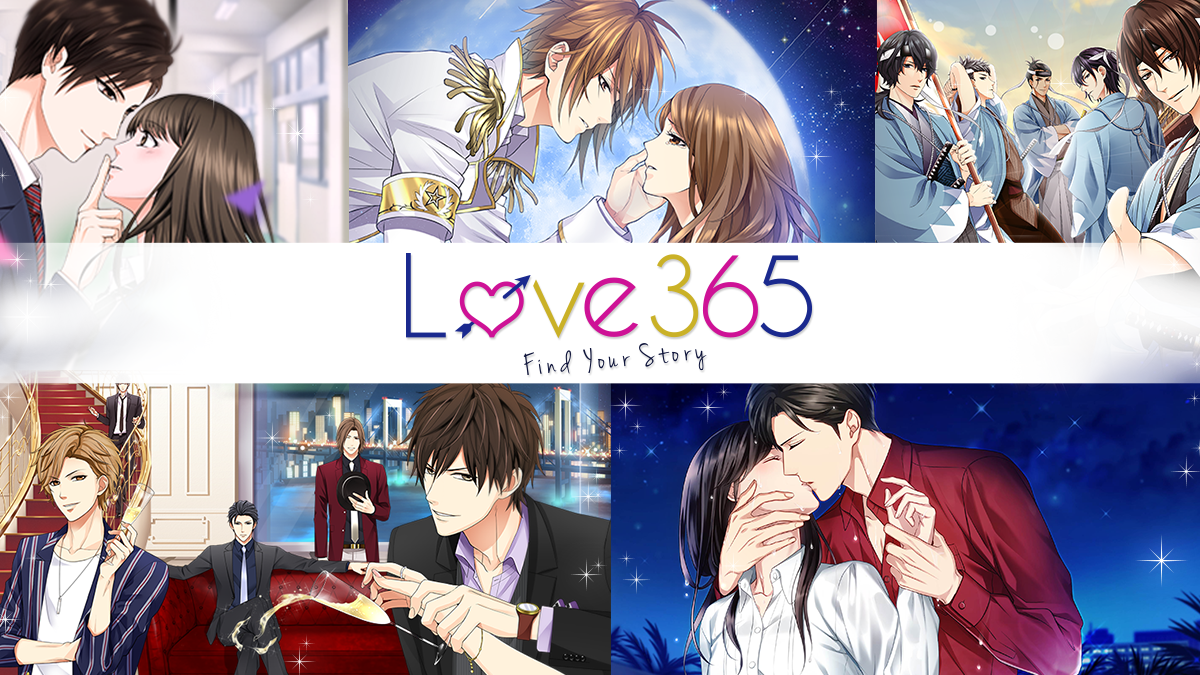 One of the first few companies to consolidate all their standalone apps into one, Love 365 is published by Otome Romance. With new and updated stories released weekly, the game has a huge library of titles for you to choose from. Popular titles include Kiss by the Baddest Bidder and Enchanted in the Moonlight which have also been ported over to Nintendo Switch.
Stories require either coins or hearts. Hearts are used for Love Choice stories while coins can be used to buy episodes. Alternatively, players can buy a Monthly Access Pass at $8.99 USD per month to read any three stories you like. Monthly Access Pass users are also able to join exclusive events and interact with your favourite character in the V.I.P Room. However, if you are reluctant to pay or would like to read Love 365 for free, the game has a selection of free stories to read for a set amount of time.
Pros:
Tons of titles to choose from
Allows you to read reviews from others before purchasing a story
Has a selection of titles for you to read it free for a period of time.
Daily login bonuses
Cons:
Too many things happening at once. Might get overwhelming.
Love 365 is available on Google Play and App Store.
My Lovey: Choose your otome story

If you are a fan of fantasy romance stories or you just want to enjoy a simple high school love story, My Lovey has an interesting selection of titles you can read from. Published by HuneX, My Lovey currently has 11 otome titles such as Meguru Chronology, Fantasy of the Mind and popular visual novel Ephemeral- Miniature Garden.
Players require keys to read each chapter and Rubies to select 'good' choices which can be purchased. Alternatively, players can watch Video Ads and complete Tapjoy tasks to obtain coins. Collect enough coins to convert them into Rubies or Keys.
Pros:
Interesting selection of stories
Translated into multiple languages (Japanese, English, Español, Deutsch, Italiano, Français, Russian, Chinese and Korean)
No waiting time required to read chapters.
Cons:
Terrible Coins to Key/Ruby conversion ratio.
My Lovey is available on Google Play and App Store.
Story Jar

Under the Shall We Date series, Story Jar is NTT Solmare's version of all-in-one app. While most titles are from NTT Solmare's previously published standalone titles, the app includes newer stories such as NULL and The World or You. Story Jar also has old popular otome console titles ported into Story Jar such as Otomate's Wand of Fortune and Beastmaster and Prince.
Generally Passes or Diamonds are needed to read each story. A Pass restores every two hours.
Pros:
Has some old popular otome console titles ported into Story Jar
Occasionally has promotions to read certain titles for free.
Regular updates and constant improvements to the game experience
Daily login bonuses
Cons:
$$$. Choices and certain stories are very expensive
Terrible Diamond is to Point ratio for Tapjoy